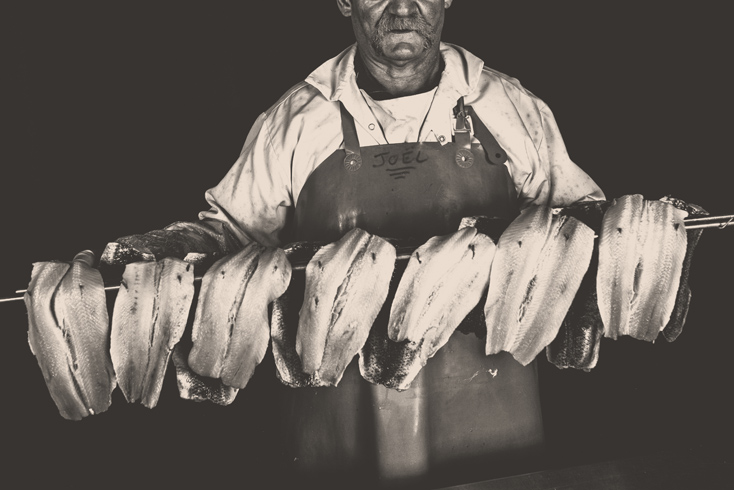 So-called in tribute to the colour of the fresh haddock or herring flesh, the "Men of the White" are the first link in the chain of the traditional salting and smoking processes used at Établissements JC David.
Our workers prepare them for slow smoking, respectful of the time it takes to create excellence, in the company's traditional ovens.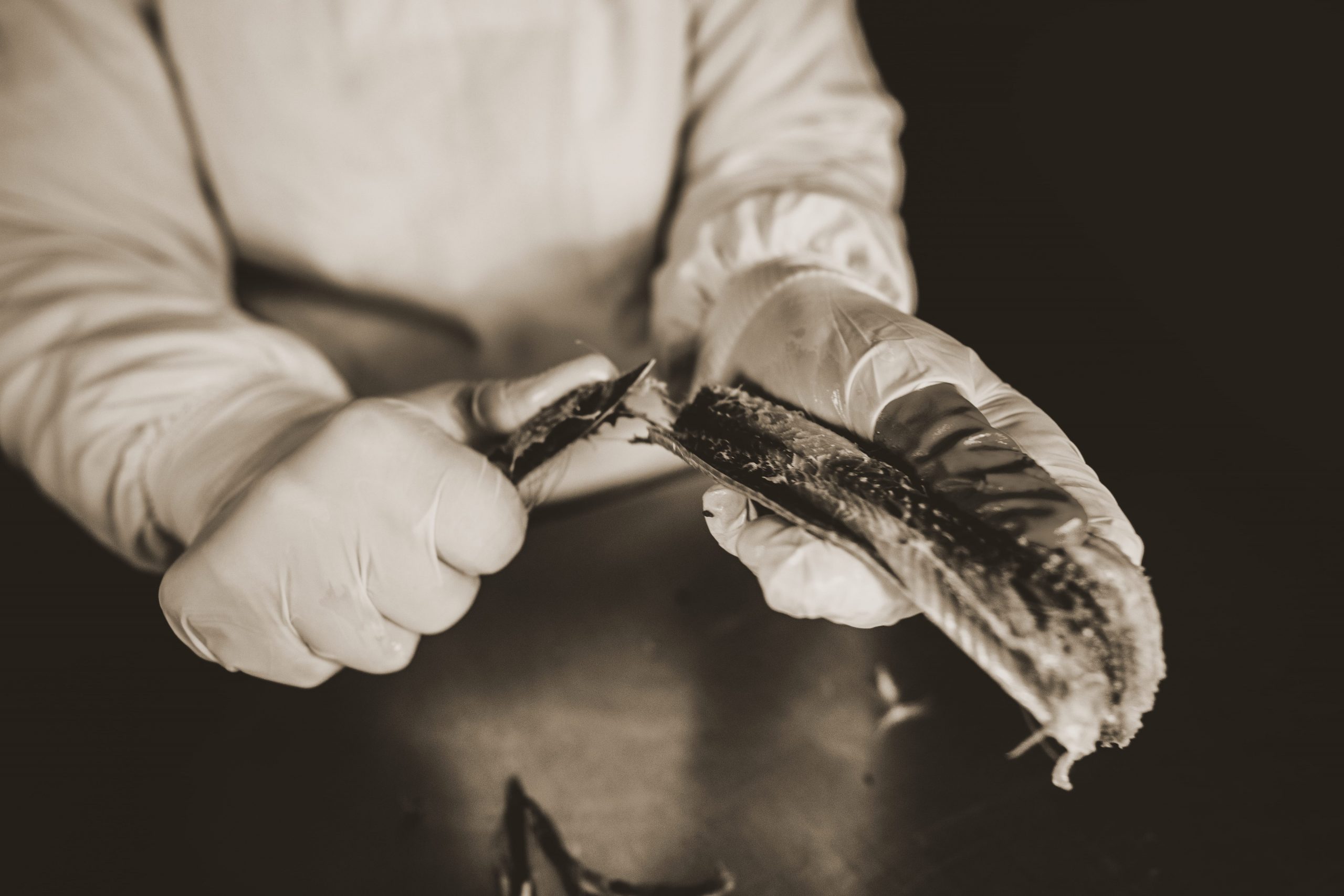 Finesse and attention to detail are key words for this crucial position at Établissements JC David. With precision and skill, the filleters delicately remove the skin, bones, eggs and roe, ensuring at every moment that the herring flesh remain intact.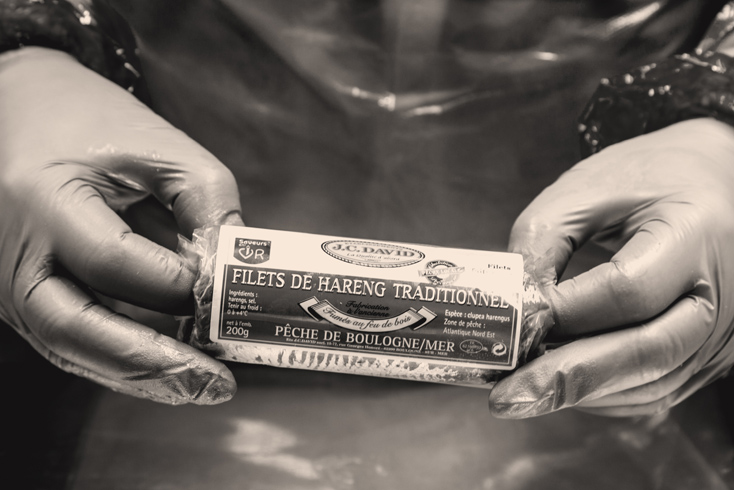 Fool-proof dexterity is required for the "Packers" to accurately roll the delicately-prepared fillets in their traditional packaging: the ballotin. Our smoked fish is exclusively packaged by hand, to perpetuate great traditions of Boulogne-sur-Mer and high-quality fillets.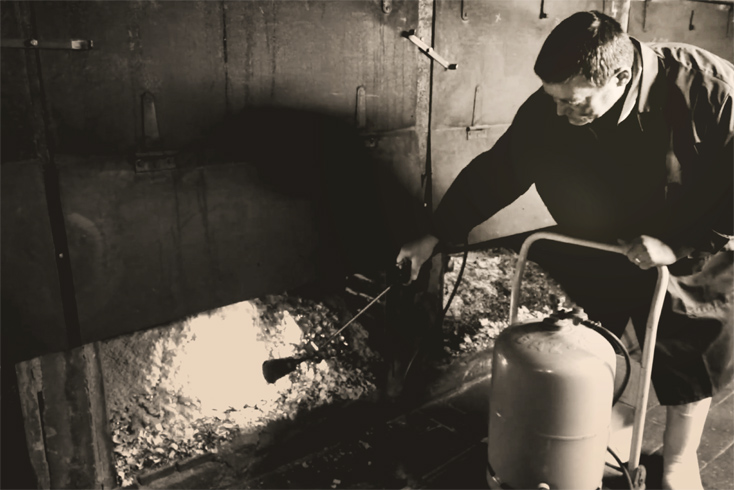 Passed on from generation to generation, the skill and expertise of the "Masters-Smokers" is unique. They alone know all of the potential hazards that can occur during the smoking process. With their knowledge and understanding of every subtlety of the coresses, the traditional wood-fired oven, they maintain a fire that burns steadily at a maximum temperature of 25 °. The wood they use comes from the state-owned forests around Boulogne-sur-Mer, which are sustainably managed by the ONF (French National Forest Board). Braving the vagaries of the climate, these experts manage and control the fire during the slow smoking process which lasts at least 16 hours depending on the variety of the fish, to ensure a fluffy smoke flesh.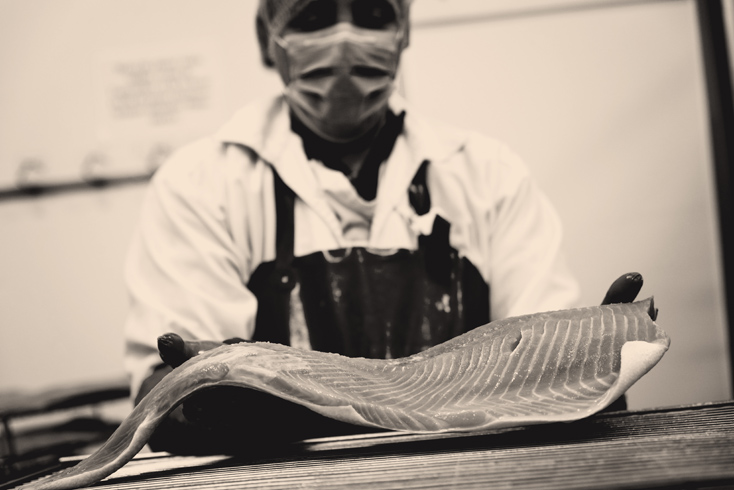 The salmon are smoked in the company's coresses. The fish is then sliced ​​manually by an expert. Using a long knife with a honeycomb blade, the slicer is responsible for cutting long and beautiful slices of salmon in the purest respect for traditional skill and know-how.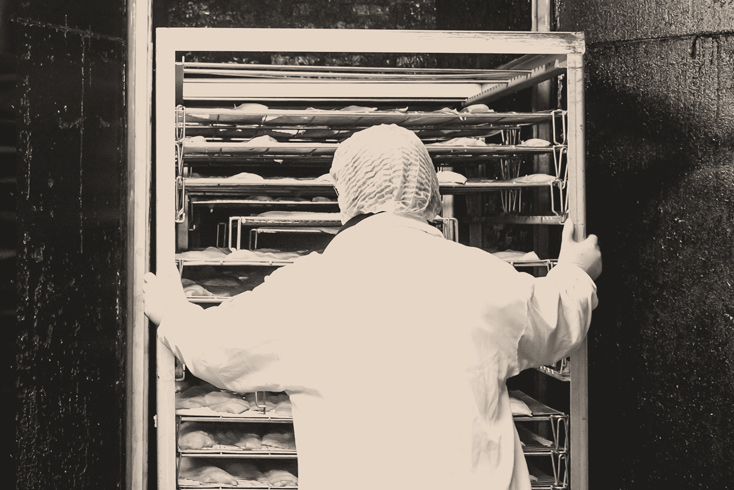 o ensure unparalleled quality, the Établissements JC David rely on an internal team of experts. Supervising the entire production chain, these specialists are also in charge of ensuring compliance with the norms required by the many labels which certify Établissements JC David products./p>