Carefully selected in the Scottish Lochs where it lives in cold waters cradled by strong currents, salmon prepared by Établissements JC David complies with strict quality requirements. A small part of the production also includes salmon from Ireland or Norway.
To be selected, whatever its origin, the fish must evolve in large, open spaces, in total respect for the marine ecosystem. The fish is then selected for the properties of its flesh, which must be as tender as it is lean.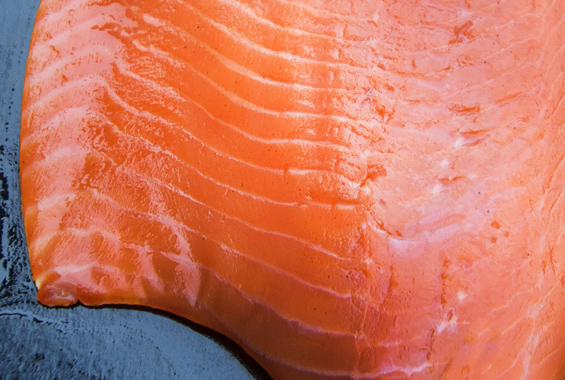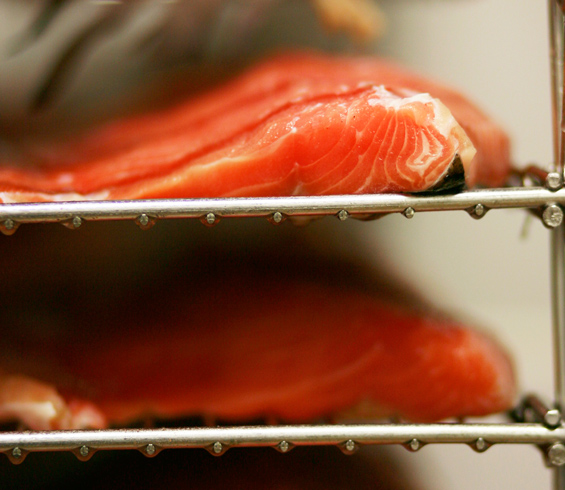 Seasoned with dry salt and with a secret blend of fine spices, our "string-cured" salmon are then hung by the tail in the wood-burning ovens for traditional vertical smoking. As with all smoked fish from produced by the company, the lengthy smoking process is the guarantee of unique flavour.
Once delicately smoked, the Salmon then passes into the expert hands of the Company's Master Slicer who, depending on the requests of our customers, cuts the fish by hand with extreme precision and finesse.
You can buy some of our products in our e-shop, but there are many other products for you to discover. Ask your fishmonger for a whole Scottish Salmon, string-smoked and sliced, ​​or a ready-to-eat terrine of tender herrings diced and then marinated with oil and organic herbs or even beautiful fillets of white haddock (without natural annatto colouring).
You will find the perfect meal for two or for the whole family and if your fishmonger does not sell J.C. David products, fill in the name of your place of residence in the section "Where to find our products" or call us.
DISCOVER OUR OTHER PRODUCTS: